"Calm, at peace, passive" – Yoda
I try hard to be indifferent. This might raise eyebrows. Tell anyone you are indifferent and they immediately make the assumption that you don't care. Being indifferent does not mean you don't care. It means that you can care about something without attaching emotion to it. It means being without passion for that thing and free of the suffering of grasping attachment.
Building resilience and being a resilient person is about being able to accept that life is not fair. It is about being able to absorb punishment, loss and disappointment and brush it off. A resilient person knows that fate is uncertain. Life can be kind and cruel. With one hand it gives and then takes with the other.
The Taoist sage Chuang Tzu said that life is made up of 10,000 joys and sorrows. The nature of samsara means that we are caught in a karmic cycle of joy and sorrow for eternity or until we reach union with the Force. We experience painful times, happiness, laughter, victory and bliss but also sadness, grief, frustration, disappointment and despair. These experiences are a part of the human condition and we grow because of them. Through growth, understanding and compassion some of us achieve a sense of equanimity in our lives. We become indifferent and in doing so become free.
Compassion
"Attachment is forbidden. Possession is forbidden. Compassion, which I would define as unconditional love, is essential to a Jedi's life. So you might say, that we are encouraged to love." – Anakin
Being indifferent and having compassion is the middle way. The road is the one that is traveled by spiritual seekers. It is a path that I embrace as a 12 Step Jedi.
Compassion is not to be confused with passion. Compassion means "loving kindness", empathy and concern for others without attachment and suffering. Passion is the antonym of compassion. Compassion comes from the soul while passion come from the heart. Love that is born of passion is grasping and fears loss. It leads to suffering. Compassion is free of bonds and fear and sets free.
Passion
"There is no passion, there is serenity" – Jedi Code
Epictetus said that all things outside of us are made up of the preferred and the non-preferred indifferent. Nothing is agreeable or disagreeable on its own. Only our impressions attached to that thing make it so. No one wants to lose their job, fall ill, and break up with a person they love or lose a loved one. The emotions that we attach to these events, grief, sadness, anger and denial are normal and healthy. Where they become excessive and cause us and others to suffer needlessly is when they become harmful.
What are you passionate about? I have to say I am passionate about nothing. I can't afford to be. Alcohol was my passion and I know where that leads. Passion leads to desire then dependence which leads to fear and suffering.
Passion means "to suffer". It is another word which has been misrepresented through the ages. Jesus faced his passion on the cross. It was through his pain and torment that the Bible tells us that he was able to transcend this material world and become one with God.
Those that have hit "rock bottom" realize a similar passion. It is by hitting "rock bottom" that they find the way out of the hell of addiction and abuse. By going through the darkness and pain we come out the other side to the light.
Preferences
"Strength of mind rests in sobriety; for this keeps your reason unclouded by passion." – Pythagoras
Naturally we prefer that life is good to us and those we love. Ask most people what they would wish for and it would be along the lines of "world peace, happiness and prosperity". Our preference is in those things that make life pleasurable and fulfilled. We can also become attached to pleasures and sensations. When those attachments become too great they can become a source of suffering.
Addiction is an extreme of attachment. An addict seeks to experience the elusive feeling of bliss and contentment that the drug provides. The sensation is pleasurable but the consequence is suffering. Anyone who has been dependent on anything or suffered an addiction knows very well the terrible cycle of desire, pleasure and regret followed by desire. We lived in abuse on a perpetual Merry-Go round that would not let us get off.
The way to get off the ride and be rid of the insanity is to realize what passion is and let it go.
Upekkhā
"Equanimity is calamity's medicine." – Pubililius Syrus
The Buddhists use the idea of upekkhā (equanimity) to describe the state of being unwavering, unconcerned and neutral in the face of the eight worldly concerns (gain/loss, praise/blame, pleasure/pain, fame/dishonor).
A bodhisattva who practices the Eight Verses for Training the Mind begins to approach upekkhā. The path to enlightenment is followed for the betterment of all living things. Before one can even get close to upekkhā they must renounce worldly pleasures. Through long practice on the path, the bodhisattva cultivates equanimity and mental resilience.
Apatheia
"The good are virtues and that share in them; the bad are the vices and all that indulge them; the indifferent lie in between the virtue and vice" – Epictetus
The Stoics speak of Apatheia, a type of indifference similar to upekkhā. Not to be confused with the modern mistranslation "apathy". Apatheia suffered the same indignity of being deprived of its true meaning as did the word stoic.
Apatheia is a form of indifference as the Pagan Greeks and Romans knew it. A Stoic was able to engage in political or philosophical debate with someone who disagreed with his ideas and remain completely detached from the emotion of the debate. Truths and ideas were valued by the Stoics, not who was right or wrong or had the last word. Right and wrong were irrelevant.
In  Apatheia there are only the preferred and non-preferred indifferent. The person arguing with the Stoic may get flustered, angry and even abusive but the Stoic remains calm and indifferent. The only thing that matters is virtue.
Calm, at peace, passive
Imagine being like that? Always "calm, at peace, passive"? Wouldn't it be wonderful to be free of the suffering? We could truly care for all things but not let things out of our control charge our emotions in destructive or unproductive ways. Without the passion.
To be in a mental and spiritual state which is indifferent to pain, to injury and insults, to success or failure, poverty or riches, health or illness. This is the essence of indifference. Accept what is with resolve and resilience. With an indifferent mind we can look beyond our failings and shortcomings as well as our successes, triumphs and failures. Indifference removes the emotions and the attachments and then we can learn, heal and grow.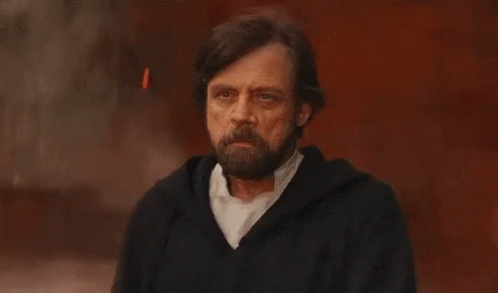 Source: Lucas Films
Learning Indifference
"Pass on what you have learned. Strength. Mastery. But weakness, folly, failure also. Yes, failure most of all. The greatest teacher, failure is." – Yoda
My problem is that I try too hard to be indifferent. Ironically I suffer by applying effort in to being indifferent. My decisions to being indifferent are based on avoidance and struggle rather than acceptance. This brings on resistance and suffering. The feelings of equanimity and calm that should come with indifference elude me. I am beginning to understand now that the ego is at play. The ego has a way of tricking us.
The ego is ever present and in perpetual struggles with the inner and silent self that resides within. Ego is selfish and screams like a petulant inner child when it does not get the attention it wants or the last word. Indifference as most people understand it comes from the ego.
The inner self is an observer. It watches with indifference and non-attachment yet from it springs all the boundless love and compassion that we feel and know to be our true self.  The self wants us to realize our true nature not by force but through gentle awakening. That is the difference between indifference and apathy. One comes from the true self, the other from the ego.
Choose Lightly
How do we practice indifference? Whatever hand fate deals treat it with indifference. As Luke Skywalker did simply brush it off. Wear life like a loose cloak.
Continue to prefer what is preferable. Choose richer before poorer, health over sickness, success over failure, choose life over death. But be prepared for the non preferred and the unexpected and unintended vicissitudes of life. Make the most of them too and learn because it is the hard times that we truly test our virtues and apply our principles. It is in battle that we shine and become resilient.
"Pain is slight if opinion has added nothing to it;… in thinking it slight, you will make it slight. Everything depends on opinion; ambition, luxury, greed, hark back to opinion. It is according to opinion that we suffer…. So let us also win the way to victory in all our struggles, – for the reward is… virtue, steadfastness of soul, and a peace that is won for all time." – Seneca
Further Reading
The Subtle Art of Not Giving a F by Mark Manson